It's more complicated than ever for job seekers to impress their employers in an increasingly competitive market. Hiring managers understand the value of certification in the information technology (IT) field. Indeed, 91% of employers believe that IT certifications play a significant part in the hiring process and are a trustworthy predictor of a successful employee, according to a CompTIA study. Earning industry-recognized IT certifications is a professional development opportunity that will help you stand out in a competitive job market, increase your career advancement chances, and position you on a lucrative career path. According to a recent survey, getting certified resulted in a 20% income increase for 23% of IT professionals.
Are you seeking for Cisco, PMI (CAPM, PMP, ACP), AWS, CompTIA, Microsoft, ISACA (CISA, CISM), Palo Alto Network Certification (PCNSC), Oracle, or VMware certifications? Passing those examinations, however, is not easy. You've come to the right place. We now offer exam proxy services. You do not need to practice because we will assist you in passing!!! Why not join us and save money and time by passing the exam quickly?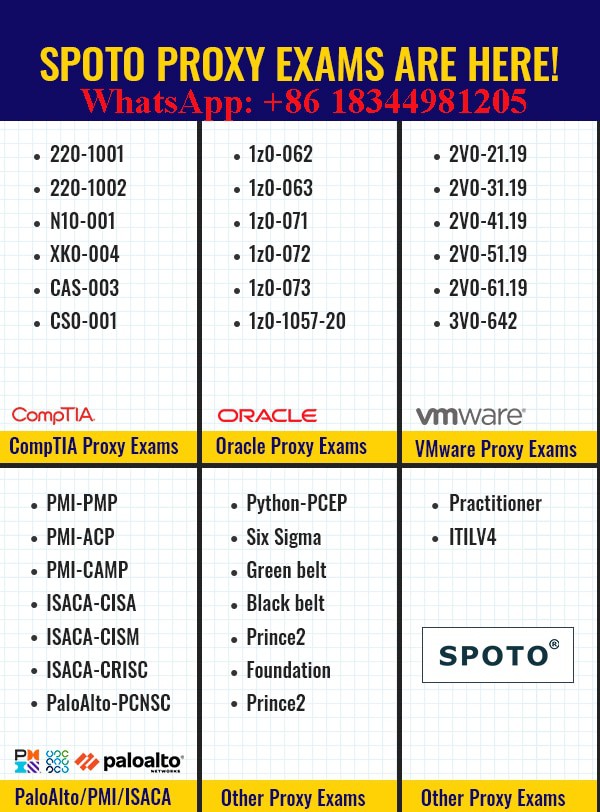 How to Pass Your Exam with SPOTO Proxy Service?
We will offer the necessary software, which you will install on your computer. During your exam, our teacher will assist you in answering questions remotely. We will ensure that your IT certification experience goes as smoothly as possible by following these simple steps. You will not be required to attend training, and we will handle everything for you!
Pre-requisite:
1. Windows11 must be installed on the PC/Laptop
2. There is no corporate firewall installed on the PC/Laptop.
3. A camera and microphone are required on the PC/Laptop.
4. Must be able to sit and act as if taking the exam for the whole exam duration.
5. You must be able to arrive 30 minutes before the exam begins.
6. The exam slot will be reserved at a mutually agreed-upon time.
Things to Note:
If you haven't booked your exam yet,
1. Transfer fees to SPOTO (Must be COMPLETED and the fee not includes the exam fee)
2. Install and test the specific software on your computer.
3. Negotiate the exam date with the teacher.
4. During the exam, our teacher will assist you in answering questions remotely.
If you have booked your exam,
Please share your exam date and location with us, and we will arrange the exam date with the teacher. Our teachers will take care of the rest for you.
What if I do in case of failure?
You don't have to be concerned about failing! We will assist you in resolving the issue. If you fail the exam, you must provide a FULL FAIL score sheet. Please DO NOT REMOVE ANY INFORMATION AS PROOF OF SUPPORT FOR THE SECOND ATTEMPT TO UPDATE. We will not continue to assist those that REMOVE or offer insufficient evidence of FAILURE.
Why Choose SPOTO?
Founded in 2003, SPOTO has been an excellent leader in IT certification training for 18 years. We offer 100% real Cisco CCNA, CCNP exam dumps, CCIE Lab study materials, PMP, CISA, CISM, AWS, Palo Alto, and other IT exam dumps. We have helped thousands of candidates around the world to pass their IT exams on the first try!
As China's first-class online IT training organization, SPOTO cooperates with many giant Internet companies in China like Tencent, Baidu, and Alibaba. What's more, we have won lots of awards in IT education training such as "Top Ten Influential Brands In Online Education Industry" given by Baidu, "Official IT Online Training Organization" awarded by Tencent Class, etc.
100% Money-Back and Pass Exam Guarantee in SPOTO
Passing IT Certification Exams are challenging, especially those for export-level and professional-level credentials, and they require a lot of time and money. However, SPOTO's proxy service can help you earn your IT Certification with the minimum time and expense. Now is the time to strike while the iron is hot! Acquire your IT Certification with SPOTO Now to advance your IT career! 100% Pass Guaranteed!

Latest SPOTO Candidates Pass Feedback