Cisco has changed up most of its certification program, especially at the CCNA level. There would be only one CCNA certification to rule them all the previous CCNA's. Now that we're well past the days of changes that hit on February 24, 2020, release date for the new CCNA certification, let's evaluate the new CCNA. And check out how much difficult is the new CCNA Exam.
Advantages of Choosing SPOTO


New CCNA Overview
The New CCNA 200-301 exam would be lasting to about 120-minutes long and cover a massive range of topics. It is expected that you have an understanding of the IT fundamentals that would be required for the latest job requirements in an IT career. You would be expected to understand security as well as Automation and Programmability.
Below mentioned topics are required by the candidate to cover:
Network fundamentals
Network access
IP connectivity
IP services
Security fundamentals
Automation and Programmability
This exam is a consolidation of all the previous versions of Cisco's associate-level certifications. It is considered as an aim for validating your knowledge of today's fundamental networking skills. Once you would have cleared the exam, your new CCNA would be remaining valid for three years before you again would have to recertify.
Now that we have acquired specific knowledge regarding the new CCNA Exam, let's discuss the level of the difficulty of the new CCNA Exam. If you are planning to pursue the new CCNA Certification any time soon, you should check out the study dumps offered at the SPOTO.
How Hard is the New CCNA?
Of course, the success rates would tell you the story a year or so from now, but we are going to observe some inferences today. In general, the new CCNA would be shaping up to be harder than the old version of CCNA.
The changes require that you are now required to have a more comprehensive knowledge base. Previously, you could ease your way into the certifications like the CCNA Routing & Switching by beginning with the CCENT, which retired from February 24, 2020, to get you into the CCNA Routing & Switching.
With the new CCNA, you wouldn't be just losing focus areas; Specialist certifications would replace them. But you are going into an exam that would cover more networking fundamentals. It is going to require having a full view and understanding of the material.
That's again not to say the old CCNA certifications wouldn't be covering basics, but the new CCNA would be diving in a little further. As a result, the exam is going to be much more challenging than the previous CCNA.
The difficulty stems from the fact that the new CCNA is going to cover modern network fundamentals uninterrupted. That, in and of itself, is considered to be a lot of ground to cover. Automation and Programmability, in particular, could be quite daunting for newer networking professionals. While DevOps as well as Automation, seem to be the norm now, mixing programming into networking certifications is considered to be a new concept.
Again, it could adjoin an additional layer of difficulty for certification takers who would be comfortable with basic networking but are new to Automation. Hence, you are required to obtain vast knowledge and also learn many more topics.
You could ease up your study with the study dumps available easily online but choose genuine products. I would recommend you check out the one which is offered at the SPOTO. They are the leading IT-Dumps provider, with the highest success rate at clearing IT exam in the first attempt
Why Choose SPOTO?
100% Pass Rate SPOTO can guarantee
100% Real Exam and Questions SPOTO provides
Professionals Tutor Teams SPOTO has
Latest Passed Report from SPOTO Candidates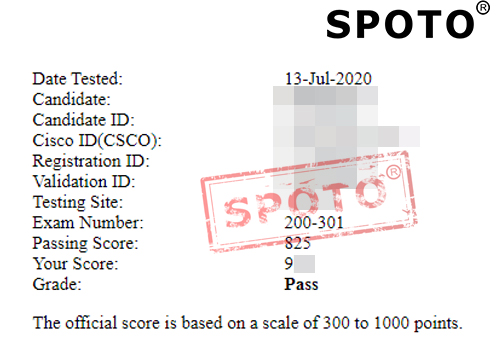 Contact us Now!!!