Project management is essential to the success of any business, which is at the heart of almost all daily operations. Project managers are responsible for grouping skilled workers into teams, constructing and developing team plans, and facilitating the execution of all projects to achieve the company's goals. Each project manager's specific responsibilities and roles depend significantly on the company the manager works for and the industry in which the company operates.
As to secure high-paying and top-tier jobs, Project management is an exciting arena. Pursuing a PMP certification career path can be lucrative, according to PMI. The most popular PMP career path for professionals starting their journey is project manager.

What Does a Project Manager Do?
A project manager plans, develops, monitors, controls, and executes a project, from gathering a team of skilled workers to designing the structure and schedule of the project. 
Principal Responsibilities
The organization is the primary quality to possess for any project manager. When a project manager is responsible for a project, he needs to consider multiple factors and elements which must fall into place seamlessly for the project manager to execute the project and achieve the company's desired result.
Career Path
The following diagram shows the conventional career path of a project manager: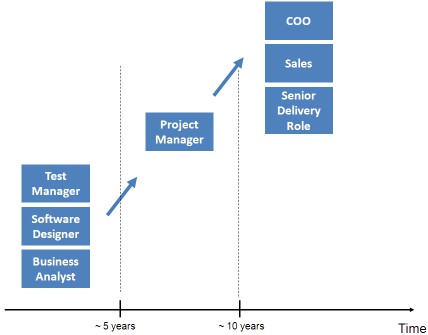 Project management is not a job without a career path. From entry-level to the executive level, there are many different project management positions for your choice as you move forward on your career path. However, the career path of a project manager typically includes the following roles:
• Project Coordinator: An entry-level administrative position responsible for generating and distributing reports. The project coordinator plays the role of assistant to the management team.
• Project Scheduler: This job is responsible for updating and maintaining schedules and other documents using a software tool, but no team or people management.
• Assistant Project Manager: An assistant may be needed on massive projects who can work with the project manager and take on tasks that the project manager cannot. For example, attending meetings and working with specific small parts of the project. In addition, he needs to meet regularly with the project manager to report on progress and possible obstacles that may arise.
• Project Manager: A project manager is responsible for the entire project, including budgets, plans, schedules, and product demonstrations, and manages the project to a successful conclusion.
• Senior Project Manager: A senior project manager can be responsible for multiple projects simultaneously and determine which projects should be prioritized.
Project management is generally not limited to one industry. Instead, project managers are needed in various industries, including those listed below: 
Construction: A Construction Project Manager is required to understand the construction business, work directly with clients, obtain permits, plan construction schedules, and manage contractors.
Architectural: An architectural project manager needs to work with clients closely and visit construction sites to consult with the construction project managers to ensure the project stays on schedule.
Health insurance: A health insurance project manager is required to work with clients post-claim to manage projects related to coding, compliance, and reimbursement. In addition, their responsibilities include managing documentation and developing client communications regarding policy changes and other types of updates. 
Manufacturing: A manufacturing project manager needs to maintain relationships between the company and clients to meet customers' needs. Besides, a manufacturing project manager ensures that quality control and safety guidelines are followed, oversees the manufacturing process, and looks for ways to streamline the process. 
Engineering: Engineering project managers need to participate in every stage of creating a new product or improving an existing one. They oversee research, planning, development, design, and manufacturing. In addition, they often work with other stakeholders to ensure overall satisfaction.
Software/IT: Software/IT project managers typically have a background in software development, computer science, or information technology to communicate correctly with the software development teams they work with. They work in an agile environment, managing schedules, iterations, tracking bugs, presenting new features to customers, and more.
How to Develop Your Career Growth Path?
Here we offer three steps for developing your career growth path. First, your project management career path begins with education. Second, you prepare for a project management position. At this stage, you can obtain a project management certification. PMP certification is the most prestigious project management certification in the world. The Project Management Professional (PMP) certification demonstrates the knowledge and experience to complete business and IT projects. Therefore, PMP-certified professionals are globally recognized for having the management skills to complete projects on time, within the scope and budget. Finally, you can advance your career within your organization.
If you want to work in the field of project management, you need to develop your future career path and execute it according to your plan. Getting PMP certification must be one of the essential steps for a bright project management career. To obtain the Project Management Professional (PMP) certification, getting the latest PMP exam dumps questions and practice tests SPOTO offered is the easiest way to become PMP certified in the shortest period.

Latest SPOTO Candidates Pass Feedback