According to the PMI salary survey, project managers with PMP credentials earn a median salary of 22% higher than non-credentialed professionals. Globally, there is an increasing demand for project managers. Indeed, numerous corporations are preparing their employees for PMP certification. This information contributes to an increase in the need for and demand for competent and skilled managers.
Additionally, it is one of the most challenging professional exams, and it requires considerable effort. However, once you pass the exam, your diligence will be rewarded.

How to Pass PMP Exam in 2 Weeks with SPOTO One-Stop Service?
Passing the exam is a challenging but not impossible task. With proper planning and perseverance, you can easily overcome the obstacle. SPOTO's One-Stop Service, including 100% Application Approval, Online Training Courses, 100% Real Exam Dumps, Proxy Service and Recertification Service, are designed to assist you in passing the exam on your first attempt. 100% Pass Guaranteed!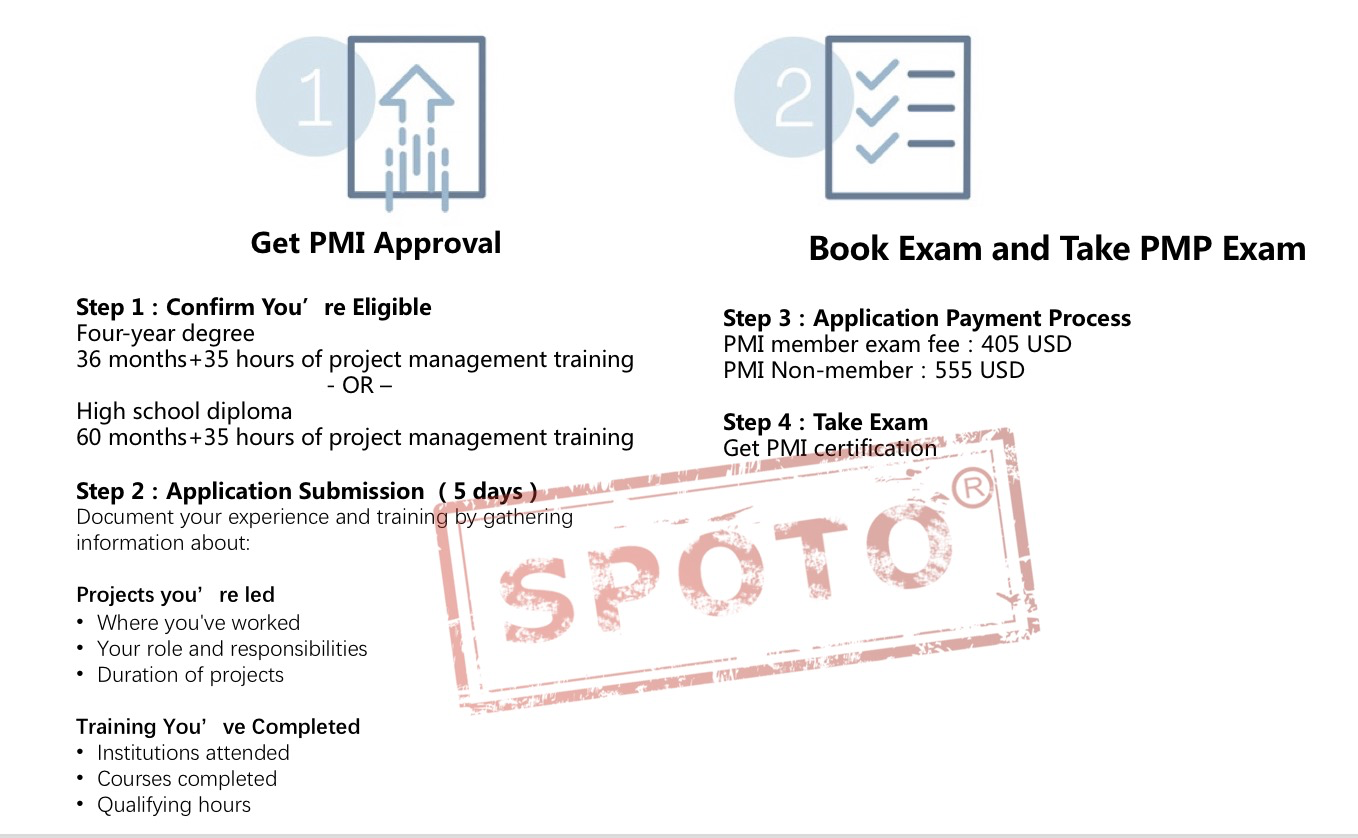 1. Application Service: Get your PMP Application Quickly Approved
Before sitting for the PMP Certification Exam, the PMI requires meeting the specific prerequisite requirements below.
If you don't have enough project management experience or 35 contact hours or are afraid that your application will fail, don't worry. Our PMP Application Service can help you gain enough project management experience and 35 contact hours to be eligible for the PMP certification. 100% Success Guaranteed!
The PMP course examines current trends, emerging practices, customizing issues, and fundamental project management competencies. Our PMP course, which places a greater emphasis on strategic and business knowledge, also includes a new section on the role of the project manager in both large and small businesses. After completing SPOTO's PMP course, you will be well-prepared to take the PMP exam and have the knowledge, tools, and resources needed to advance your career. While pursuing and maintaining your PMP® certification, follow our expert-led PMP® Exam Prep training.
3. Exam Dumps: 100% Real Exam Questions with Verified Answers
The new PMP exam, released on January 2, 2021, includes 180 questions covering the updated three domains and combining multiple-choice, multiple-response, matching hotspot, and fill-in-the-blank formats. On the other hand, SPOTO's real-time updated exam dumps contain only 200+ questions that cover the actual exam questions, making your preparation process more accessible.
4. Proxy Service: Obtain PMP Certification without Any Efforts
Every PMP exam candidate should know the PMP pass rate to determine how rigorously they must study. The PMP certification is acquiring increasing importance and recognition across a variety of professional fields. However, it is also one of the most challenging tests to pass, and 80% of examinees fail on the first attempt. Using SPOTO's Proxy Exam service may save you a significant amount of time and effort. And, of course, it has a much higher pass rate than candidates who prepare for the exam on their own, as well as a slightly higher pass rate than those who use exam dumps. 100% Money-Back and Pass Exam Guarantee!
Each PMP certification cycle lasts three years, and you must earn 60 Professional Development Units (PDUs) to renew your certification at the end of the cycle. To renew your certification, you must demonstrate that your professional abilities have remained sharp and relevant to current business demands every three years. PMP renewal should be a top priority as soon as you obtain your PMP certification. SPOTO PMP Recertification Service provides you with 60 PDUs: 35 PDUs through training courses and 25 PDUs through giving back.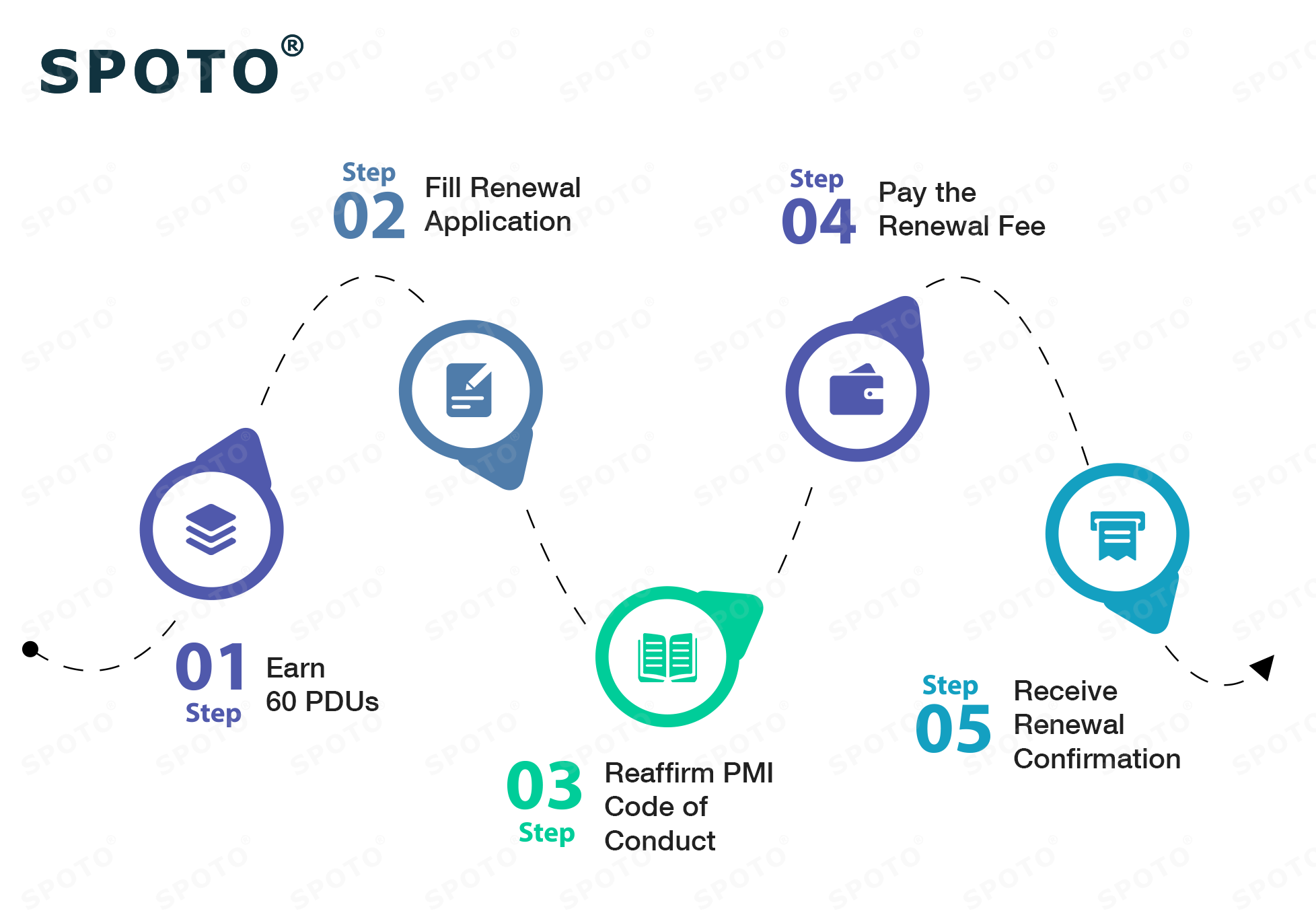 Why Choose SPOTO?
Founded in 2003, SPOTO has been an excellent leader in IT certification training for 18 years. We offer 100% real Cisco CCNA, CCNP exam dumps, CCIE Lab study materials, PMP, CISA, CISM, AWS, Palo Alto, and other IT exam dumps. We have helped thousands of candidates around the world to pass their IT exams on the first try!
As China's first-class online IT training organization, SPOTO cooperates with many giant Internet companies in China like Tencent, Baidu, and Alibaba. What's more, we have won lots of awards in IT education training such as "Top Ten Influential Brands In Online Education Industry" given by Baidu, "Official IT Online Training Organization" awarded by Tencent Class, etc.
PMP 100% PASS in SPOTO
The Project Management Professional (PMP)® certification is a worldwide recognized project management credential that assesses an individual's ability to manage a professional project's people, processes, and business priorities. Project managers can use it in practically any area, including health, construction, information technology (IT), and business.
There are various approaches to studying for the PMP exam. No matter which of SPOTO's services you choose to prepare for the PMP exam, we guarantee that you will pass 100% of the exam. Pass like SPOTO's PMP candidates! Enroll now, upskill, let's work together to make your dreams happen – starting today!

Latest SPOTO Candidates Pass Feedback